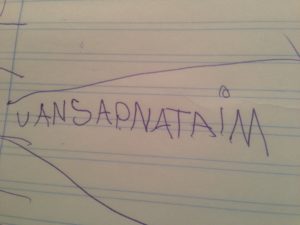 Once upon a time… If I had to explain the human mind and spirit to an alien, I would begin with those 4 little words. First, because, isn't that the best way to begin a story? Second, because of the magic behind those words, ancient and archetypal. In fact, according to the Oxford English Dictionary, this phrase has been with us for centuries, since at least 1380. Those 4 words, strung together, reveal a collective AND individual psyche. And they introduce the story of who we are: storytellers!!
Those 4 words are the first words my son wrote, when he was 4 years old. In the above photo, you can see how he wrote it, sounding it out, all as one word: UANSAPNATAIM. He writes a lot, now. And he's good at it. He writes stories. And he writes about stuff that makes him happy, about things that stimulate his imagination and curiosity. And, now, I would like to take a page from his book. Namely, that very first page.
And who am I? Well, I'm an enigma – a mystery wrapped in a riddle. Sure, I could tell you a little something about myself, like how my ancestors once lived in caves – yes, they WERE cavemen, now that you mention it. But that was some time ago, in fact my cousin just bought himself a real house, in California.
Okay, okay. Let's see. What can I tell you? I am a language teacher and translator/interpreter. I'm married, with children. I have lived and studied abroad for many years. I am a bit of a nomad. And I have many interests, experiences, questions and quests I would like to share with others. I am enthusiastic about the things I like, and I like sharing that enthusiasm. There are many things I hate too, but that is precisely what I will NOT share here.
Now, this is no ordinary blog. Forged in the fiery heart of the sun itself, this blog is so bold, so daring, so HOT, it will melt your face off just searching for it on Google. Fun fact: you won't even find it on Google (not Earth's Google, anyway). UANSAPNATAIM is THAT unique and out-of-this-world!
So, while this blog may be a reflection of the writer, it's really about fun and sharing. It's a variety show in blog format.
What can you, good reader, expect to find here? Well, there's…
Music
LOTS of music! For example, the monster-summoning music of Blue Öyster Cult
or the sublime guitar of Wes Montgomery
Literature
I love reading. My interests vary from classic literature, to poetry, to the technical… Really, I read a little of everything. But I confess, here and now, that I am a BIG fan of Science Fiction, and one of my favorite SciFi writers is Philip K. Dick. I've read maybe 2 dozen of his novels, the first being: The Man in the High Castle.
Another writer I love is Roald Dahl. I'm a dad, a teacher, and I was even once a kid, so I regularly revisit writers like Mr. Dahl, who had a particularly keen eye for spotting the extraordinary among even the most ordinary of situations. He understood children, and wrote magnificent books just for them. An all-time favorite of mine is Danny, the Champion of the World.
I find it especially interesting how well he understood kids of all ages. He has a way of drawing the reader into the plot, inviting them to participate in some secret or bit of mischief. This is true of his children's books as well as of the short stories he wrote for older readers. But, if you are reading those short stories, prepare yourselves for darker humor, pathos and unexpected twists, such as you will find in Man From the South. Humans can be funny, they can be dangerous, and you never know what they will do next.
Cuisine
Great food from around the world, featuring kick-ass recipes. Did I mention I love cooking (AND eating, of course)? For example, if you like Greek food, try this recipe for Moussaka.
Language
Are you an ESL learner curious about why Americans talk about things being cheesy?
Classic American TV
Kung Fu
It was February 21, 1972, and Richard Nixon was traveling to China, to meet with Chairman Mao and his Premier, Zhou Enlai. America was fighting a losing war in Vietnam. The Cold War with the Soviet Union was especially tense. The US President was intent on establishing good relations with the People's Republic of China, in order to shift the balance of power in Asia and give the US more leverage in dealing with the USSR and with the situation in Vietnam. After 25 years of zero contact, the two countries were opening up to one another. Nixon made sure the American media showed audiences back home how well he was doing; they caught all the highlights of this spectacular week-long trip on TV. Curiously enough, that same week, American audiences also had the pilot movie for a new series, Kung Fu, dropped on them. Neither TV nor America would be the same.
(You have to wait 30 seconds for the video to start, but it is worth it!)
Heroes and Legends mighty figures like Muhammad Ali
And more! Even risqué topics, such as the wacky reproductive experience of the male seahorse.

Oh my.
More Music!
Finally, because I love playing guitar, I will be leaving links which will take you to the chords and tablature for the songs I've been playing. For example, David Bowie's Space Oddity, the Who's I'm One, or the Beach Boy's Pet Sounds Album.
So, stay a while and have fun! And, if you feel like it, share your own interests, ideas and feelings about things. It's a big universe out there – let's explore it together!
*Politics and religion, while of great importance to most of us, may be referenced to but will be GREATLY limited. This blog is meant to bring folks together, so let's do that: bring folks of ALL backgrounds together. Finally, while UANSAPNATAIM is a reflection of the writer's personal interests, it should NOT be assumed to be an endorsement in any way, shape or form, of any opinions expressed directly or indirectly herein.
https://traduccioneskleinerman.es/wp-content/uploads/2017/08/logocabecera.jpg
0
0
Kleinerman
https://traduccioneskleinerman.es/wp-content/uploads/2017/08/logocabecera.jpg
Kleinerman
2018-09-25 21:19:44
2020-02-25 08:35:35
UANSAPNATAIM